Summer Reading Program: Libraries Rock!

Our 2018 Summer Reading Program will introduce your family to all of the reasons that Libraries Rock! Sign up beginning May 15 and start logging your reading on June 1 to earn badges and free books all summer long. Along the way, complete missions and unlock fun mini-games to keep you reading this summer!
It's easy to sign up and participate!
Create an account by clicking "Register." If you had an account last year, you can just log in to get started.
Don't miss your library's Summer Reading Kick-off Party!
Beginning June 1, log your reading every day.
Kids and teens will earn a free book every 2 weeks as long as you've logged at least 100 minutes of reading.
When you've earned 600 points, you've completed the program and can print your certificate.
Even when you're done, keep reading to keep earning free books and unlocking mini-games.
Need more information? Click the "Frequently Asked Questions" tab above, or contact the library if your question isn't answered here.
How do I earn a free book?
It's easy -- just keep reading! Kids and teens will get a book when signing up, and can earn another book every 2 weeks when at least 100 minutes of reading have been logged since the last free book. Books will be awarded on the following dates: Day of sign-up, June 15, June 29, July 13, July 27, August 10, August 24, and August 31.
I'm an adult — what's in it for me?
If you have kids, participating yourself is a great way to help your children stay motivated! Even if you don't have kids, it's a way to keep yourself engaged and aware of your reading time. While we are unable to award free books to adult participants this year, you can still unlock cool mini games and earn badges. 
Why can't I log more than 300 minutes?
There's no such thing as "too much" reading, but for the purposes of earning points in the Summer Reading Program, 5 hours a day is the maximum.
What prizes are available this year?
For the 2018 program, we are focused on books and reading! While we won't have any grand prizes this year, each branch will be giving away prizes at their kick-off parties, so make sure to attend!
Do I have to track my reading online?
In order to participate in all of the features of our online program, you will need to log your hours online. If you would like an easy way to track your reading in between logins, reading logs are available at all libraries.
Are book reviews required?
The only information that must be entered to log your reading is the number of minutes read. Titles, authors, and reviews are all optional.
Washoe County Library System would like to thank our sponsors for providing funding, advertising, and programs for our 2018 Summer Reading Program!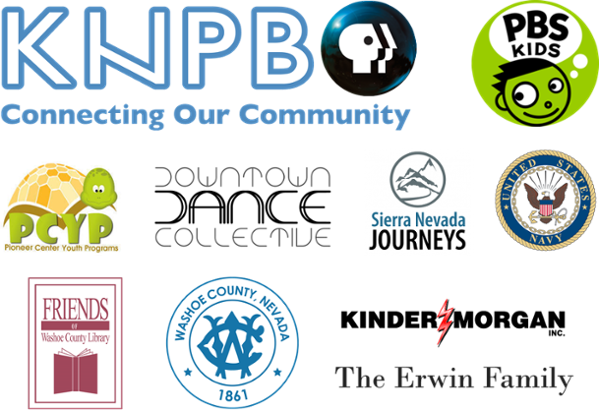 Print