Geography Awareness Week
November 10-16, 2019
by Toni McLaughlin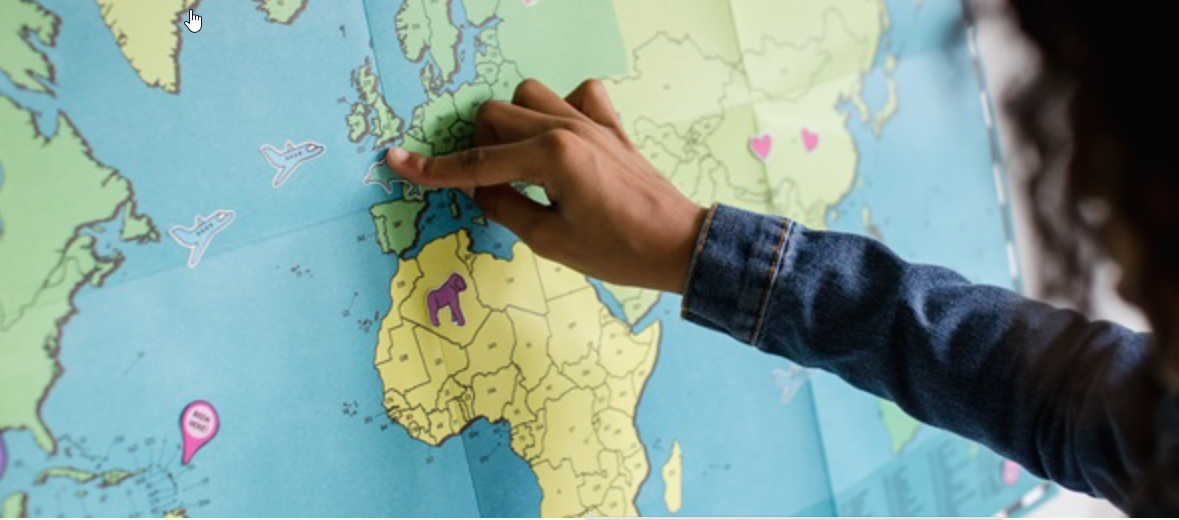 In honor of Geography Awareness Week, we encourage you to enhance your family's geographic literacy by exploring some of the library's resources. We offer an array of materials to make you geo-savvy, from atlases and travel guides to popular non-fiction by bestselling science writers. On this page are a few recommended geography resources to get you started.
Geography helps us make sense of our world. It is more than memorizing the names of capitals, river systems and mountain ranges. If we don't know where places are, then we cannot begin to understand real geography: the nature of places, societies and environments, and how and why they are changing. Local concerns and global issues affect us all–from an urban neighborhood in transition to migration patterns and climate change. The need for geographical understanding is greater than ever before.
Libraries are known as champions of literacy, which is the ability to read and write. Libraries also support cultural literacy, the concept that citizens should possess a common body of knowledge that allows them to communicate effectively, govern themselves, and share in their society's rewards. Geographic literacy, or geo-literacy, isn't as well known but is just as deserving of support. Without it, we can't understand why drought in California affects tomato prices in New York or what the Strait of Hormuz has to do with the price of gas in Iowa. The National Geographic Society defines geo-literacy as "the ability to reason about Earth systems and interconnections to make far-reaching decisions." It means being equipped to better understand the richness and complexity of the world and how our decisions affect others.
In 2006 National Geographic and Roper Public Affairs interviewed 510 young Americans ages 18 to 24 and found one-third could not find Louisiana on a US map and half could not identify the state of Mississippi. Over half of the interviewees were unable to locate Japan on a map of Asia.
In 2016 the Council on Foreign Relations and National Geographic surveyed 1,203 American college students to gauge global literacy (geography, the environment, demographics, U.S. foreign policy, recent international events, and economics). Less than one-third of the students could find Israel on a map, and only half knew that Mandarin Chinese is the language spoken by the most people worldwide.
Roger Downs, geography professor and former chair of the geography department at Pennsylvania State University, notes that US schools have slighted geography. "If geography is not in the curriculum," Downs said, "it's not tested–and that says to the students that it is not valued."
Clearly, there is work to be done. Certain factors do improve geographic knowledge, including travel and language proficiency. Other experiences such as spending time in nature, civic engagement, and community service are critical to building geo-literacy.
Print